Chiropractic Care
What Is It?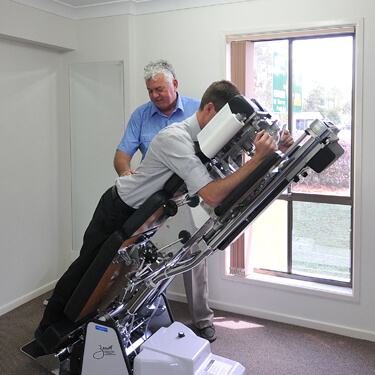 Chiropractic care is a natural, non-invasive way to detect and remove misalignments of the spine to allow the nervous system to function correctly and the body to self-heal. Many people seek chiropractic care for drug-free pain relief, while others choose maintenance care because they want to enjoy optimal function so they can enjoy their favourite activities in life.
Conditions for Which Patients Seek Our Care
Here are a few conditions we typically see here in our Mt Warren Park chiropractic office:
Back Pain
Here at Pickford Chiropractic Clinic, we often see patients with back pain and radicular pain caused by bulging discs who have been told they must have surgery, because that is the only option according to their medical doctors. These patients regularly respond to conservative chiropractic care and never have to undergo the rigors of spinal surgery.
Headaches
Many headaches are caused by a problem in a patient's neck, including many types of migraines. Chiropractic is a natural way to detect and remove misalignments of the neck to allow the nervous system to function correctly.
Extremity Pain
Extremity pain, especially shoulders and feet, are conditions we often see here at the practice. Both these regions respond well to chiropractic care.
Doctors Pickford, Thatcher, Matthews and Chiangthong utilise a variety of adjusting techniques including Thompson drop piece, Diversified and Gonstead whole body adjustments.
Other techniques routinely used are Activator and SOT, but we are predominately a manual adjusting office. We also focus on extremity (shoulder, elbow, hand, hip, knee and feet) correction.
If you've been to a chiropractor before and have a preference about how you are adjusted, let us know. We want you to relax, enjoy and fully benefit from your adjustments.
Book an Appointment
Contact our Mt Warren Park practice today to make an appointment!

Chiropractic Care in Mt Warren Park, Serving Beenleigh, Logan, Eagleby, Windaroo, Yatala, Ormeau QLD | Pickford Chiropractic Clinic