Meet the Team at Pickford Chiropractic Clinic
Jacky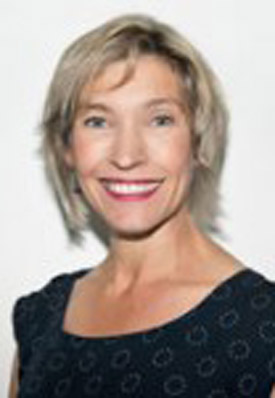 Jacky has been working in the field of Human Resources for over 15 years and joins our team as our Office Manager and Chiropractic Assistant. She finds it most fulfilling to work with people and seeing the difference Chiropractic makes to peoples' health and life.
Jacky is a keen animal lover; and owner of an excitable two-year-old shepherd, and slave to a nine-year-old cat called Bob. In her spare time you can find her working in the garden or when time permits, spending time with the family and fur-babies camping.
Jacky has been a wellness patient of Chiropractor for over 30 years, and for a time even worked as a CA at another Chiropractic clinic (before computers were invented). Get to know Jacky on your next visit with us!

Andrea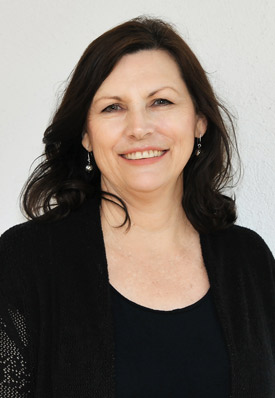 Andrea rejoins Mark and the team after spending the previous five years permanently living in the USA. Residing with her son Josh who is in the military, Andrea experienced living "on base" in Fort Benning, Columbus, Georgia; the US Air Force Academy Base, Colorado Springs, Colorado and Fort Huachuca, Sierra Vista, Arizona.
It was during this time that Andrea was able to share in the birth of her two grandchildren Charlotte and Thomas. This led to a full-time position as a loving and doting Grandmother.
Now, back in Australia, Andrea spends weekends on the Sunshine Coast visiting with her daughter Ali, and husband James, or travelling to Brisbane to visit the youngest son, Rhys.
Apart from family, interests include walking, playing tennis and golf. Andrea also loves to create special dishes to share with friends when out boating on the Gold Coast waterways.

Danielle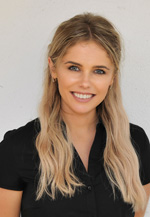 Danielle moved from New Zealand to Australia in 2011 with her partner Logan. Since living in Australia, she has worked as a Hairdresser and as a Chiropractic Assistant at the clinic.
She returned in January 2020 after welcoming their son Jye into the world in September 2019.
Danielle has a keen interest in natural healthcare and is passionate about sharing the benefits of chiropractic care and supporting patients through their health journeys.
In her spare time, Danielle enjoys going on road trips and exploring different beaches and waterfall tracks. She loves keeping active at the gym and spending time with family, friends and dog Ella.

Susie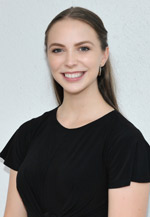 Susie joined our team as one of our friendly Chiropractic Assistants. She comes with a special interest in exercise science and clinical psychology and is studying full-time at University, graduating in 2020.
The most fulfilling part of her job is seeing the direct benefits of chiropractic care both acute and chronic conditions.
Outside the practice, Susie loves travelling, being outdoors and powerlifting!

Laura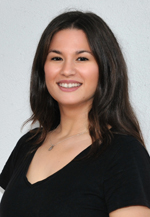 Miss Laura joins the Pickford Chiropractic Clinic team with a great deal of knowledge in Chiropractic and Osteopathy, having studied and practiced in Spain for more than five years with those in the field. She even had the opportunity to learn about Chiromassage, Chiropraxia and Reiki at the time.
From a young age, Laura has enjoyed meeting and helping new people, which made massage therapy a perfect fit. She also loves the opportunity to help others understand more about their bodies while achieving and unlocking their true health potential, naturally.
As she puts it, the most fulfilling part about working with her patients every day is being able to help them feel better without the need for drugs or surgery. Seeing her patients grow and improve is simply incredible.
Miss Laura is a member of the Australian Natural Therapists Association (ANTA), the largest national democratic association of recognised natural therapy, complementary medicine and traditional professionals. Outside of the practice, she is a passionate dancer, enjoying the salsa, zouk and bachata. She also likes to sing and box when she has the time.
Get to know more about Miss Laura when you visit us for your next appointment-she can't wait to meet you.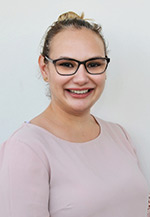 Connie
Connie is a mother returning to the workforce after spending quality time raising her 2 school-aged children. Connie has worked in Administration previously and is passionate about healthcare and helping people. She started her degree in nursing before her children were born. Connie has been a chiropractic care patient for more than 3 years.
Outside of the practice, she loves to watch her children play rugby league, spend time with her dogs, cat and chickens and enjoys swimming and being outdoors.

Want to Learn More?
Contact Pickford Chiropractic Clinic today to make an appointment.
CONTACT US

Meet Our Team | (07) 3287 2666