New Patients
Your First Visit
The first visit has 3 steps which are combined but can be separated on request.
1. Ring for an Appointment
The chiropractic assistant will organise a suitable time for your initial consultation with one of our female or male chiropractors. If you prefer a specific technique, manual or instrument adjusting, please ask!
2. Initial Consultation
You will be asked to fill out some forms with personal details, past health history and presenting problems. Once completed, you will be moved into a private room. Your chiropractor will introduce themselves and ask some questions to determine that you are in the right place. You may ask your own questions and discuss any concerns you have at this time.
Chiropractic can always be of benefit to your health, but some health complaints require priority which may be addressed better by our medical colleagues. If you situation requires another type of professional, we will refer you to them.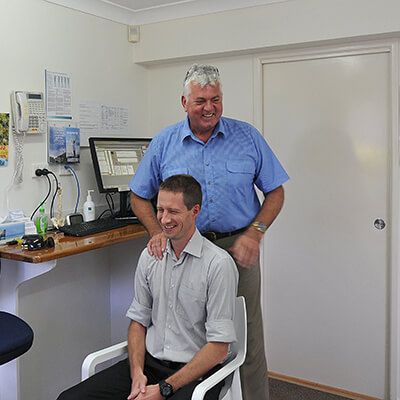 If we are unable to help or you decide not to proceed, there is no charge. We do reserve the right to retain your information for our records.
3. The Examination
The examination depends on many factors and it may involve you having to put on a gown to allow proper examination. Your modesty will be of the utmost importance throughout the examination. At this point you may be referred for radiographic examination for further assessment.
We refer to a medical radiologist for our films as they are covered by Medicare. These x-rays are received by the practice via the internet and the 2nd appointment is scheduled accordingly.

Your Second Visit
The chiropractor will go over your x-rays and you will be given a written report of findings (ROF) and discuss levels of care. This is usually split into the 3 areas: Relief, Rehabilitative and Wellness care, all as distinct steps.
Relief Care: Visits are frequent and the aim is to reduce the cause of your pain as quickly as possible.
Rehabilitation Care: Visits are less frequent as the pain has disappeared though often the cause is still present.
Wellness Care: Detecting issues long before you feel any pain, and maintaining your body's innate ability to heal itself.
At this point you will also receive your first adjustment.

Progress Visits
Progress visits will monitor how you're responding to treatment. It's impossible to predict how you will respond to chiropractic care, as everyone is different. It is at this point that we are able to make a more accurate assessment of your recovery.
You may feel better after a short course of adjustments, but it's like going to the gym, once you stop, you lose progress you have made.
Your body's health is not just the absence of pain but its ability to function naturally and repair itself.
CONTACT US


New Patients | (07) 3287 2666