Meet Our Naturopath
Carly Gallagher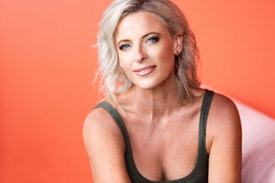 Carly grew up in a home focused on natural, holistic healthcare. Her father is Dr Mark Pickford (Chiropractor) and her mother was also into natural medicine, and she encouraged Carly to study Naturopathy.
Carly took her advice and graduated from the Australian College of Natural Medicine in 1996 with an Advanced Diploma of Health Science – Adv Dip HSC (Nat). Since then , she has become a Yoga Teacher and Beyond Quantum Healer.
Conditions She Can Address
Here are some common conditions for which patients seek Carly's care:
Gut dysfunction
Thyroid disease
Weight control
Women's hormonal issues
Approach to Care
As a self-described integrative Naturopath, Carly is open to holistic medicine and natural medicine, but also to certain medical approaches that are beneficial and don't have side effects. "With respect to hormones, there are some medical integrations that work well for different types of people. I believe we're getting good at natural hormone options that are medically compounded," she said.
Help for More Than Physical Conditions
As a Yogi, Carly incorporates the philosophy of Yoga in how she treats people. "With natural medicine and allopathic medicine, we're focused on physical healing. But with Yoga, we look at different types of bodies often overlooked–the emotional body, the energetic body and the spiritual body."
When Carly meets with a patient, she's trying to integrate healing across a multiverse of those bodies. While she addresses physical issues through herbal medicine, nutritional medicine and diet, she also works to foster emotional healing, as our bodies contain a lot of emotional trauma that can manifest in symptoms.
Quantum Healing
Carly uses Quantum Healing to get information from the body by sitting with it and seeing what it's trying to tell you. "I do a lot of emotional healing as well as spiritual healing through the modalities used."
For Carly, it's rewarding to witness people go through their own journey of health and healing. "I'm not the one delivering the results; it's the person doing the healing themselves. My role is that of a support person directing them into their own innate healing."
Outside the practice, Carly enjoys doing Yoga. She also loves being creative and enjoys the arts–painting, dancing and music. As someone who loves being outside and connected with the earth, Carly likes going to the beach, bushwalking and being in nature.
Book an Appointment
Contact us today to schedule an appointment with Carly!

Carly Gallagher | (07) 3287 2666